Introduction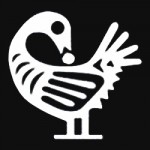 Sankofa is a profound Adinkra wisdom symbols from the Akan people who reside in modern Ghana and Ivory Coast. In the Akan language, Sankofa literally means "return or go back to fetch it." The symbol advises us to go back to the past and learn from it in order to build the future. The physical representation of Sankofa is a bird turning its head backward extending in the direction of its tail.
From ancient to modern times, man has lived in village societies in sustainable harmony with nature. These sustainable survival systems included food security, shelter, health care, culture, and spirituality that were integrated in a holistic way. The modern consumer culture is degrading earth's ecosystem at a rate that cannot be sustained into the indefinite future. A worldwide movement is emerging that focuses on a sustainable future for planet earth through respect and cooperative living with nature. The solutions that are being developed to address our future survival include "going back" to ancient or traditional living systems combined with new knowledge and technologies.
The Need for the Project
The 2002-06 Strategic Framework of the International Fund for Agricultural Development (IFAD) states that a major problem encountered by nations in the Western and Central Africa (WCA) region is the migration of their populations from rural to urban areas. The number of cities in the WCA region with more than 100,000, inhabitants will grow from 90 in 1990 to more than 300 in 2030. Rural populations migrate to urban areas in search employment opportunity to build a better life. Instead many migrants find more poverty in an unfamiliar and often hostile environment. Large numbers of young adults leave rural areas taking their much-needed labor with them. One of the more subtle affects of young adult migration is that traditional culture can't be passed from elders to the next generation. This break in the cultural chain is causing the total loss of some indigenous cultures as traditional knowledge dies with the elders. Rural poverty reduction strategies must identify innovative approaches to create opportunity and employment within rural communities in order to reverse the trend of rural to urban migration.
Project Goal
The Sankofa Ecovillage is envisioned as a replicable model that demonstrates how permaculture design principles can be used as a poverty reduction strategy by providing employment and other anchoring interventions that aims to stem the migration of rural populations to urban cities.
Land Acquisition
The first step in developing the Sankofa Ecovillage project was land acquisition. Buying land in Ghana is tricky business that takes time and often ends in disappointment. Fortunately, we found a family owned tract of land. The sellers are honest people who realized the benefits our project will bring to their community.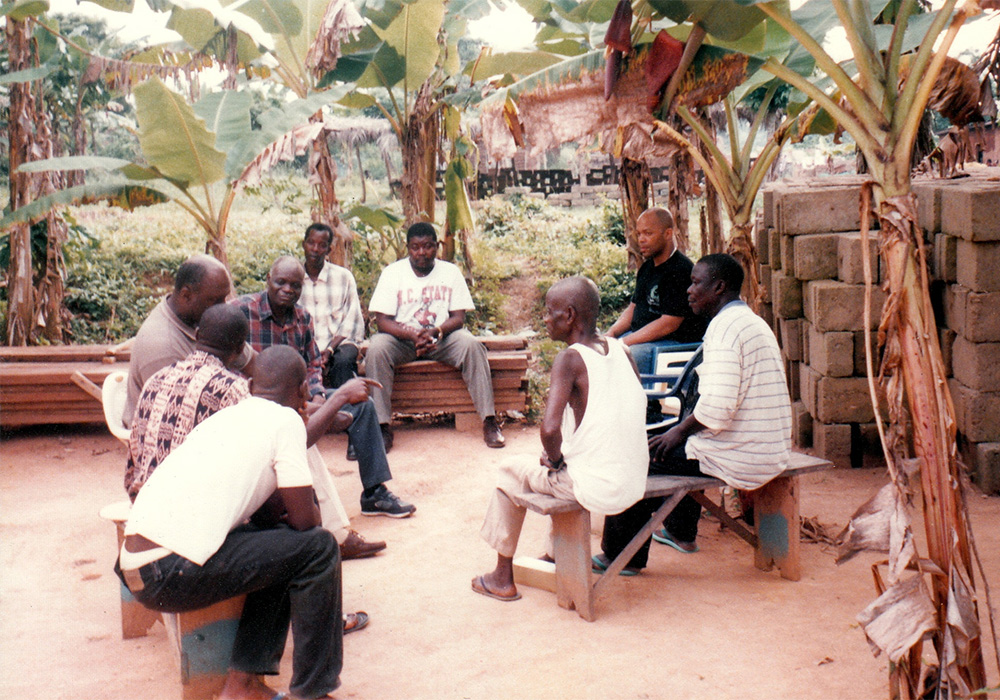 HFA VP explains the ecovillage vision and benefits of the project to the community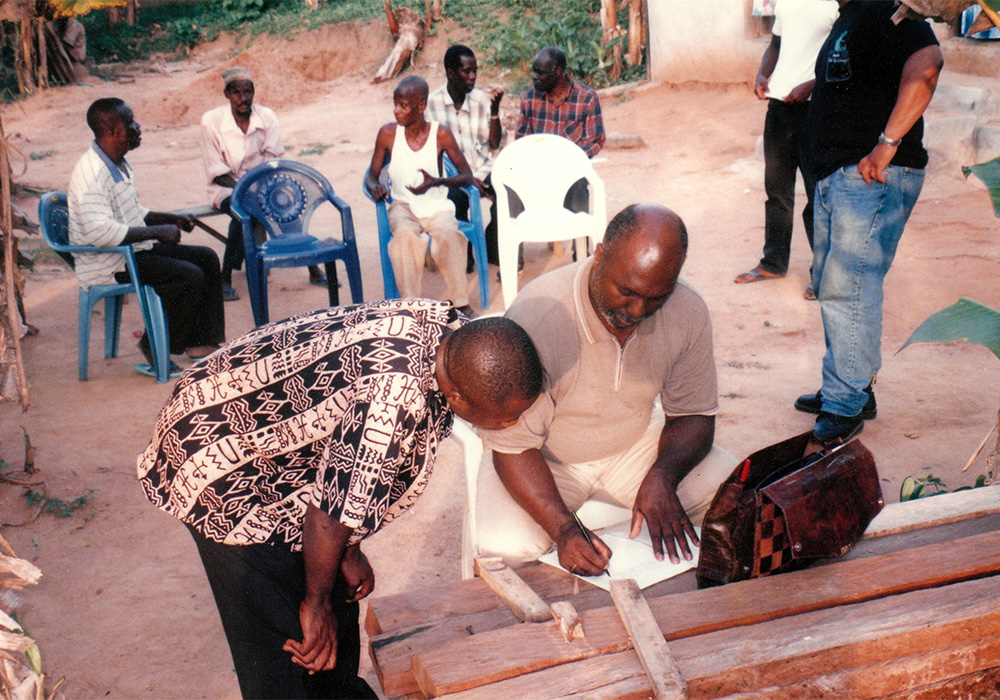 HFA Exec. VP Al Hope signs purchase agreement as local resident waits to witness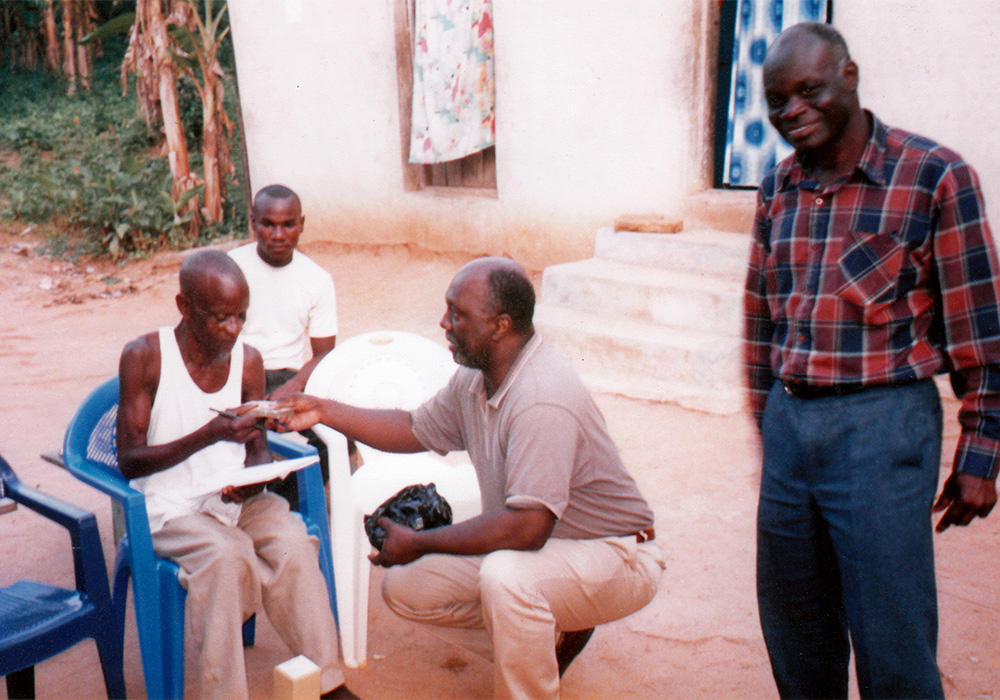 HFA Exec. VP Al Hope makes a payment to head of family Mr. Tetteh SARkWAH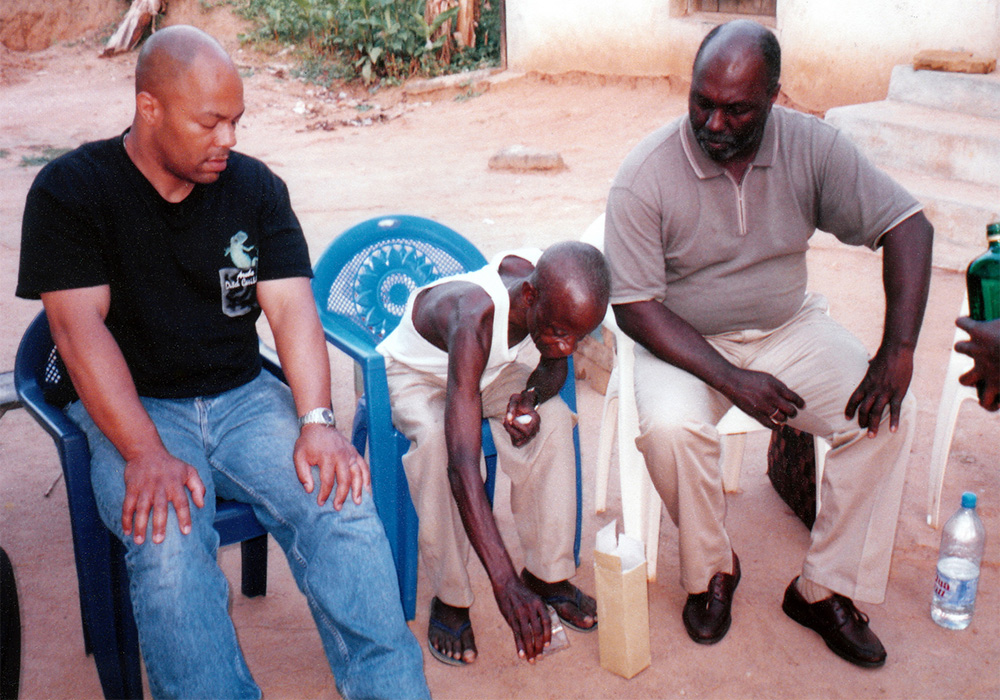 Traditional pouring of libations to ancestors and spirits ends purchase transaction
There are several types of land ownership in Ghana that affect the way that land title is conveyed to a buyer. There is Stool Land owned by a Stooldom (kingdom) covering a particular area. Stool Land requires approval from the Chief or King and council of elders and ownership is conveyed through a 50-year lease. Title or leasehold is willable but there is no guarantee that the lease will be renewed at the end of 50 years. Land owned by families or individuals in fee simple is conveyed in fee simple by indenture (deed). Land owned by the government of Ghana may be conveyed in fee simple or 50-year lease depending on its intended use. Each type of land ownership has its own unique registration process. Navigating each process is cumbersome, time consuming and quite often ends in loss of money and disappointment. The land for Sankofa Ecovillage was acquired in fee simple from a family.  This means that Hope for Africa can transfer fee simple title in perpetuity to home owners that buy lots in our residential development.
The Sankofa Ecovillage Vision
Tourism Magnet: Tourism is the key economic component of the ecovillage model because it attracts visitors that support local farmers, artists, performers, and crafts people to keep the culture of their community alive. The Sankofa Ecovillage (SEV) will attract ecovillage/permaculture professionals/activist, study abroad college students, volunteer abroad students and adults, student interns with an interest in ecovillage/permaculture design principles, teacher/educator study tours, and tourist interested in Ghanaian culture and ecotourism. The SEV will feature an Ecolodge, Eco-cottages and Eco-dormatories as guest quarters for visitors.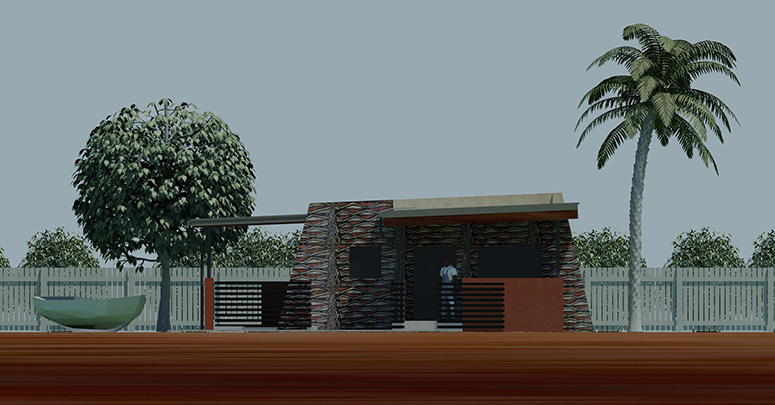 Architect's rendering of SEV Eco-cottage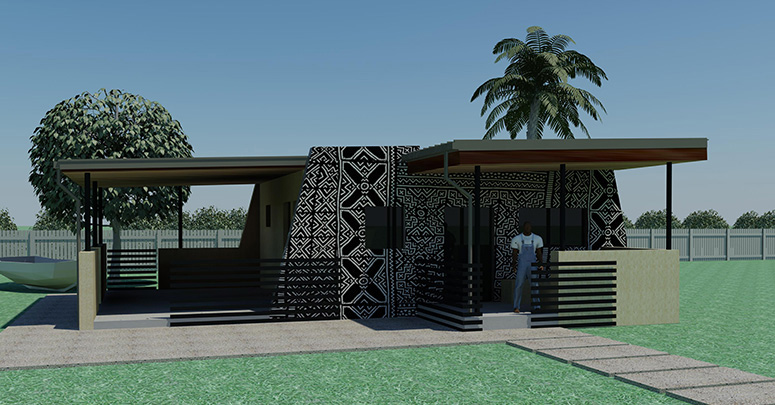 Architect's rendering of SEV Eco-cottage
The central "palaver hut" (community center) will be used for meetings of the Kwasi Nyarko village council, SEV homeowners association, village youth council, and small conferences. Mini-palaver huts or small meeting rooms will ring the central palaver hut and will host classes or small group meetings.
Residential Development: The SEV will include a residential development for people interested in relocating to Ghana. A section of the SEV will be subdivided into 70 X 100 residential lots set aside for founding members of the SEV homeowners association. The first right of refusal for founding membership in the SEV homeowners association will be offered to Africans in the Diaspora. If the initial offer is not taken up by Diaspora Africans it will be open to all interested individuals. There is a first come first serve open application process for founding members. Click here to download or complete the Sankofa Ecovillage Founding Member Application.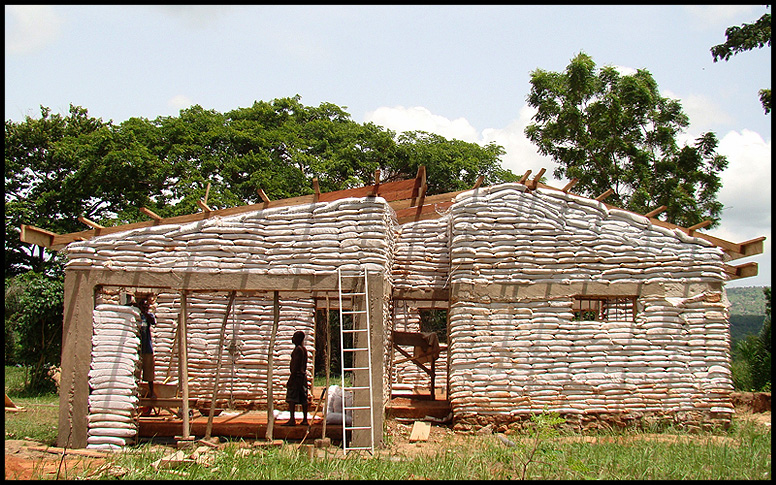 Conventional house design using Earth Bag building system at mid construction phase.
Appropriate Technology: The SEV will use appropriate technologies to insure sustainability and self-reliance. Such technologies will be long lasting, user friendly, user serviceable, locally available, and simple to operate and maintain. Renewable energy technology such as photovoltaics (solar energy), wind turbine and micro-hydroelectric systems will be used to generate electric power.  Solar hot water systems, icemakers, refrigerators, water pumps for irrigation and solar ovens will be standard equipment at SEV.
Sustainable Food Production: The SEV Farm Academy will work with local farmers to teach and encourage the use of organic growing methods that preserve and enhance the environment. The use of chemical fertilizers and pesticides will be discouraged in favor of food production methods that integrate traditional systems of knowledge and innovative techniques with common sense.
Fish Farming: The small streams and marshy areas of the SEV site will be expanded into ponds and reservoirs for aquaculture (fish farming), crop irrigation and other types of aquatic habitat. Farm raised Talapia will provide food for villagers and SEV guest with surplus production sold commercially. The ponds and reservoirs will be scenically landscaped using local plants and foliage to further enhance the SEV physical environment.
Employment Opportunities: The SEV will create permanent employment for people in the village of Kwasi Nyarko and surrounding areas that include jobs for farm workers, maintenance workers, food preparation help, shop clerks, waitresses and clerical support.
Business Enterprise Development: Opportunities for business enterprise development will emerge from the SEV development. Some of the business enterprises that may emerge from the SEV project include permaculture construction companies, solar energy service companies, farmer cooperatives, and bicycle rental and handicraft cooperatives.
Current Status of Sankofa Ecovillage Development
The first phase of land acquisition took some time but we can now take the next step in the development process. An architect has been engaged to develop a master site plan and design standards for the development. The master plan will designate the residential area, lodging and guest services area, the experimental farm area including the Farm Academy facility and the maintenance and equipment storage area. The plan will layout streets, walking paths and trails, ponds for fish farming and landscaping.
The preparation of the site plan and the actual site work involved in cutting in streets, roads and initial buildings is estimated to cost $250,000 USD. Our goal is to raise the $250,000 through online donations and through a direct appeal to individuals and organizations.