Since 2000, HFA has offered two and three-week Motherland Tours to West Africa for families, church groups, clubs and individuals. These "reconnective pilgrimages" to Ghana and Benin include glimpses into the African past with lectures on traditional cultural practices, naming ceremonies, cultural performances such as the "Procession of a King", visit to the palace of a Ghanaian king and guided tours to: Cape Coast and Elmina Castles, the Kwame Nkrumah Museum, Mampong Plant Medicine Center, and Kakum National Rainforest. The Bénin, program features lectures on the history of the Leopard Kings of Dahomey and the traditional spiritual system of Vodoun; guided tours to Ouidah and the "Gateway of no Return"; Ganvie, the city on a lake; audience with the King of Porto-Novo; and spectacular cultural performances of the Egun-gun Ancestral Masks and Zangbéto, Spiritual Guardian of the Night. Click the Motherland Tour Schedule link for our two-year travel schedule.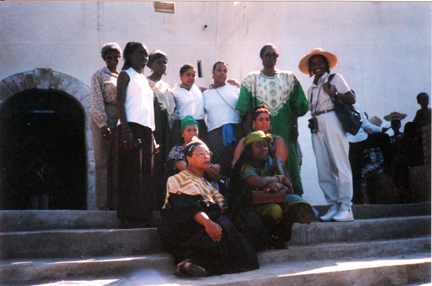 HFA Motherland Tour Group at Cape Coast Castle
The application process for Motherland Tours has several steps as follows:
Download and complete the Motherland Tour Application form. Be sure to check the travel dates that you want from our two-year tour schedule. Submit the completed application with the required deposit based on the travel dates selected. Completed applications can be submitted online with commitment deposits paid by credit/debit card or PayPal. Payment options and methods of payment can be found at the Motherland Tour Application link. Completed applications can also be submitted by mail with deposit paid by money order payable to Hope for Africa, Inc. All applications by mail should be sent to Ms. Ann Cantrell, President, Hope for Africa, Inc. 5276 Biffle Road, Stone Mountain, GA 30088. Inquiries for additional information or clarification about Motherland Tours should be sent to (jhope2100@yahoo.com) or (ahopehr@yahoo.com)
All tours require a minimum of ten (10) participants. If the minimum number of participants required is not recruited the commitment deposit paid at the time of application will be returned.
Installment payment plans can be arranged for Motherland Tours.
Our cancellation policy is stated on the Motherland Tour Application form.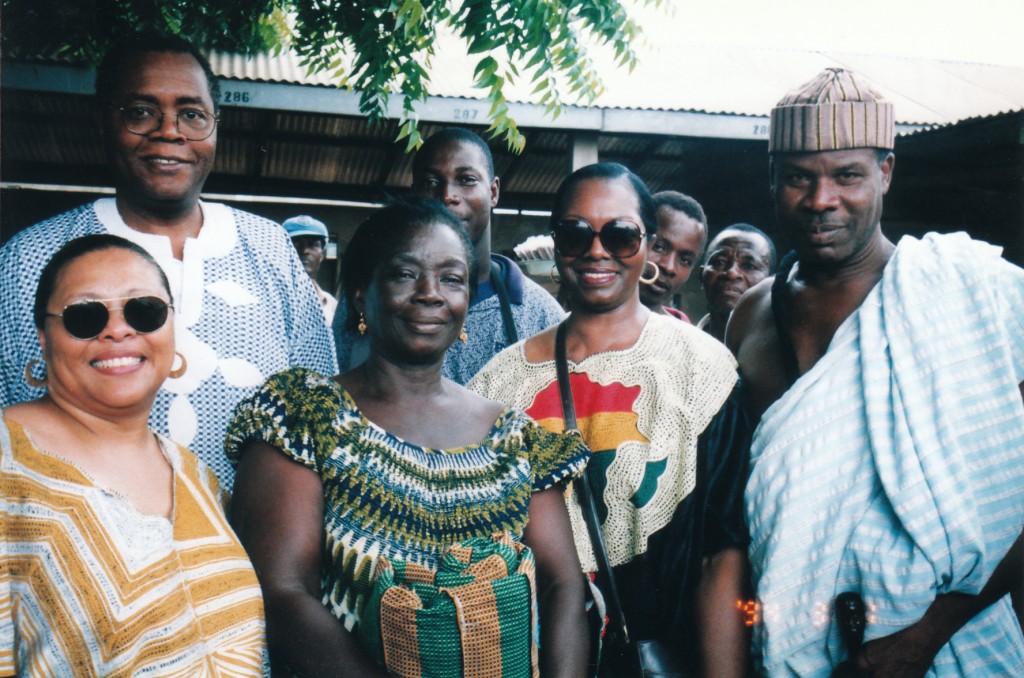 HFA Tour Group visits with Traditional Chief in the Ada area of Ghana
HFA handles the following arrangements for Motherland Tour participants:
1. Develop tour itinerary
2. Handle all travel arrangements for participants including coordinating visas
3. Arrange all local lodging accommodations
4. Arrange local transportation
5. Arrange all site tours, lectures and cultural performances
6. Provide orientation sessions to prepare participants to function comfortably in local settings.